Share on
NUTRITIONALS
PHYTO ADRENAL
GLANDULAR ADRENAL SUPPORT
Nourish & Restore Optimal Adrenal Health! Featuring a blend of coveted adaptogenic botanicals, each serving of PHYTO ADRENAL supports the repair and prevention of adrenal fatigue, soothes mental and physical stress discomfort, helps maintain balanced metabolism, and regulates better mood, sleep, and greater focused energy.
ORIGINALLY

: $59.00

DISCOUNT

: $20
$39.00 USD
STRENGTHEN & BALANCE
CONTROL WEIGHT BY BALANCING CORTISOL LEVELS
The adrenals produce a powerful hormone called cortisol. Cortisol plays many different roles within the body, including regulating sugars, carbs, and fats. When stress strains the adrenal glands it can cause increased production of cortisol that can lead to weight gain. PHYTO ADRENAL helps to boost adrenal strength and balance cortisol production and release so your body can better control weight and balance metabolism.
ADRENAL HEALTH
MANAGE & REDUCE STRESS
Plant-based adaptogens, like PHYTO ADRENAL's Astragalus Root and Licorice Root, are known to support and protect the adrenal glands from internal and external stress. Their natural healing properties help your adrenals recover from the harm of overstress and increase the production of necessary compounds that minimize stress.
PRIMED ENERGY
BOOST YOUR ENERGY BOTANICALLY
PHYTO ADRENAL's powerhouse combo of herbs all work together to repair adrenal fatigue and maintain optimal adrenal levels. When your adrenal glands are operating at their best it supports an increase of natural, sustainable energy and a more clear and focused mind.
Optimal Adrenal Function
PHYTO ADRENAL's dynamic phytoformula is derived from nature's finest resources that have been researched and studied for effectiveness and used within cultures throughout the world for adrenal balance and support.
Suggested Use: Drop 1-2mL under tongue 1 to 3 times daily or as needed. Hold 30 seconds before swallowing.
ϯϯ Natural variations can occur.
Other Ingredients: Deionized water (pH Neutral), 99.9% Kosher glycerin (vegetable), Chai flavor.
No additives, binders, fillers or lubricants added. This formula is 100% Organic, Kosher, Allergen Free & All-Natural.
Keep out of the reach of children. Pregnant women, nursing mothers or children should refrain from taking this product unless advised by their physician. As with any dietary supplement, consult with your physician before use if you have or suspect you have a medical condition or are taking any medications.
Trending PrimeMyBody Products
LEAN MAX
Metabolic Booster
Peak metabolic performance
Burn fat effectively
Sustain healthy weight levels

$69.00 USD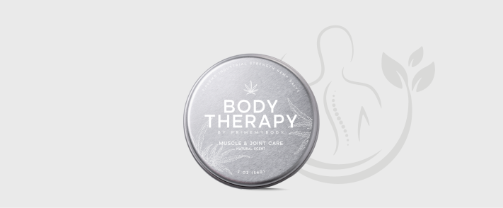 BODY THERAPY
MUSCLE & JOINT CARE
1,000mg of organically sourced cannabinoids
Eases aches, strains, and tension

ORIGINALLY

: $49.00

DISCOUNT

: $20
$49.00 USD
HYDRATE PURE
HEMP-INFUSED MOISTURIZER
Boosts cellular hydration
Lock in moisture
99%+ pure hemp isolate

ORIGINALLY

: $69.00

DISCOUNT

: $20
$69.00 USD
HAVE QUESTIONS?
Fill out the form and this member will reach out to you: kristina frederick